We specialise in waterproofing solutions for residential, commercial and industrial properties, delivering a professional service from start to completion.
Our professional teams are experienced to work within secure environments and will assure that the area or surface to be waterproofed remains neat, tidy and safe during the project. We ensure a quick and efficient service with minimal downtime and disruptions.
We partner with reputable waterproofing product manufacturers and all the waterproofing products and materials used are tested and approved to assure top quality performance and guarantee offerings. As an independent waterproofing contractor we work with various waterproofing systems and have access to a wide variety of products to suit our clients' requirements and specifications.
TFSSA will provide you with a free waterproofing, damp proofing, waterproofing repair estimate quote in order for you to plan, budget and consider your waterproofing project options.
Free on site quotations are important from where the exact planning, sample analysis, accurate measurements, assessment and evaluation of area and professional recommendation and advice on the required waterproofing requirements will be provided.
We consider your requirements individually in order to surpass your expectations.
Waterproofing systems and waterproofing products are ever evolving and as a contractor who builds our reputation on technology and provide our clients with top quality waterproofing solutions we ensure that all new products are tested and that our staff is expertly trained in the application of all our product offerings.
The application and workmanship during waterproofing applications is a crucial part of product efficacy and associated product warrantees and guarantees. Majority of our time spent on all our waterproofing projects is thoroughly preparing any area and following with professional application of waterproofing coatings.
Our Service Offering Includes:
Waterproofing
Damp Proofing
Plaster Repair
Crack Repair
Joint Sealing
Chemical Stripping
Corrosion Control / New Coatings
General repairs and maintenance of existing waterproofed areas and surfaces
Painting and coating applications
High Pressure Washing
Waterproofing of roofs including flat roofs and tiled roofs
Sheeted roofing metal roofs including IBR Sheeting and chromadek
Concrete roofs and roof slabs
Parapet walls, flashings and kerbs
Suspended slabs
Roof gardens, planter boxes, terraces
Balconies
Patios
Parking decks
Waterproofing of basements and underground structures
Interior and exterior walls
TYPES OF WATERPROOFING SYSTEMS OFFERED:
Bituminous membrane Waterproofing / Torch-on waterproofing
Bituminous waterproofing membranes, modified bitumen waterproofing membranes or commonly known as torch-on waterproofing membranes: Bituminous waterproofing membranes are manufactured with rubberized asphalt, modified plastomer / elastomer bitumen, the product is reinforced with a dual carrier spun bound non-woven polyester filament stabilized with fiberglass,  with,  some systems with special additives, the upper surface is finished with a special release material which is uniformly spread and calibrated in order to prevent the roll from sticking to itself  and available in various types of finishes and in some products provide an anti-slip feature. The lower surface can be laminated with a thermo fusible film. It can be applied in a wide variety of areas that requires waterproofing including flat, sloped and pitched roofs, reinforced concrete and prefabricated concrete, masonry cement, metal, decks, parking, insulated concrete, under flooring, garden roof, terraces and air/vapour barrier, foundations, tunnels and tanks. Bituminous membrane is usually applied by heating the bituminous blend using a gas burner or hot air guns and can be modified / manipulated as per constructive size and shape.
This system is coated by using a suitable aluminium or acrylic coating. The coating will serve as a decorative and protective coating that will protect the torch on waterproofing against ultraviolet degradation. The coating will need to be serviced as stipulated after application.
Bituminous / torch-on waterproofing have outstanding waterproofing capability and performance perfectly meets all architectural forms.
Cementituous Waterproofing
Cementituous waterproofing systems is a two component system: a blend of cement, graded silica sand and modified polymer / elastomer dispersion with fibre reinforcement which will support flexibility of the product. Some systems deliver good tensile strength and elongation properties. Cementituous waterproofing are used in a wide range of applications and areas, both water immersed and exposed including masonry areas for example parapet walls, pre-casted concrete, reinforced concrete, beams, ceiling platforms, balconies, terraces, patios, walls, silos, tanks, dams, pools, reservoirs, fish ponds, waterproofing under tile / floor, damp proofing of walls and surfaces for negative and positive water pressure, sealing of surfaces with rising damp, crack bridging and many more. These systems can be used with reinforcement fabric membranes or cloths made from various materials i.e. fibreglass, polyesters. Some cementituous waterproof methods can also be over coated with a suitable prescribed to coat for example epoxy, acrylic and polyurethane coatings. The top coat will also assist with UV degradation and will serve as a decorative coating.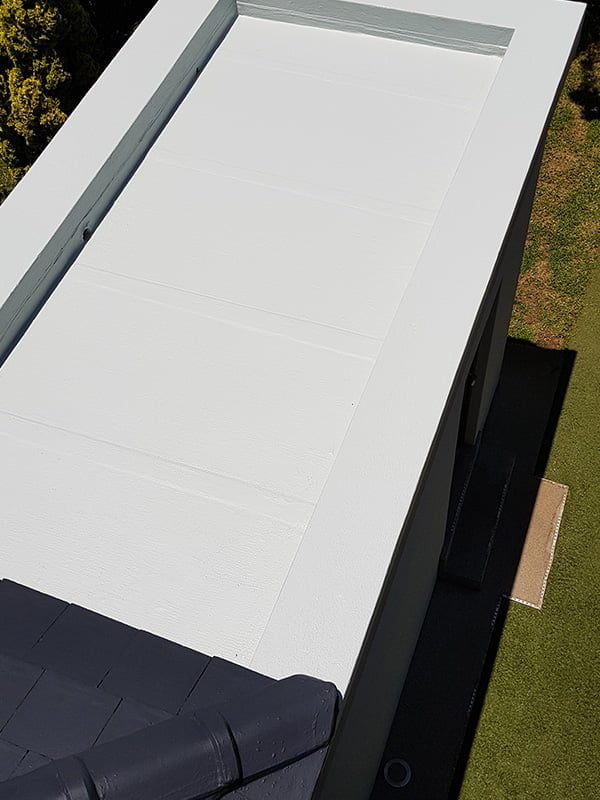 Liquid waterproofing methods also commonly known as membrane waterproofing systems, modified liquid waterproofing coatings, seamless liquid waterproofing system
There are a wide variety of liquid waterproofing products available; however it will fall within the following categories:
Bitumen emulsions – can consist of a combination of bitumen / rubber / latex modified anionic bitumen emulsion. Some products can be used with reinforced mambrane
Polyurethane emulsions – is water based seamless waterproofing membrane which consists of modified monomers / polymers, polyester and elements fused by carbamate or commonly known as urethane. Polyurethane liquid waterproofing is flexible and has outstanding chemical and UV resistance properties.
Polyester systems and acrylic emulsions – water based waterproofing system reinforced by fibre membrane i.e. fibre glass or by incorporating a geo-fabric membrane
Polyurea – modified polymer liquid with a combination of additives i.e. resins. The system is seamless with high tensile strength and elongation properties and excellent UV resistant properties
Silane liquids – Silane / siloxane combination based liquid have excellent hydrophobic properties and effectively assists with water repellent impregnation and chemical resistance
Cementituos Waterproofing
Areas of application of liquid waterproofing coatings:
Roofs, sealing joints, laps and roof screw, roof bolts / screws, flashings, vents, parapet walls, roofs, valleys and ridges
The Polyurethane and polyurea waterproofing coating can even be applied to wet areas i.e. bathrooms, kitchens etc.
Polyurea waterproofing coating can be applied to concrete, steel, structural linings, reservoirs etc. areas with total water immersion.
Lead Free and low VOC Floor Coatings
Chemical Resistant Coating
Roof Painting
In order to receive an accurate estimate, TFSsa will require the following information, alternatively you may contact us.
Please complete the online Request a Quote form and provide us with the following details: